Daily Archives:
January 7, 2014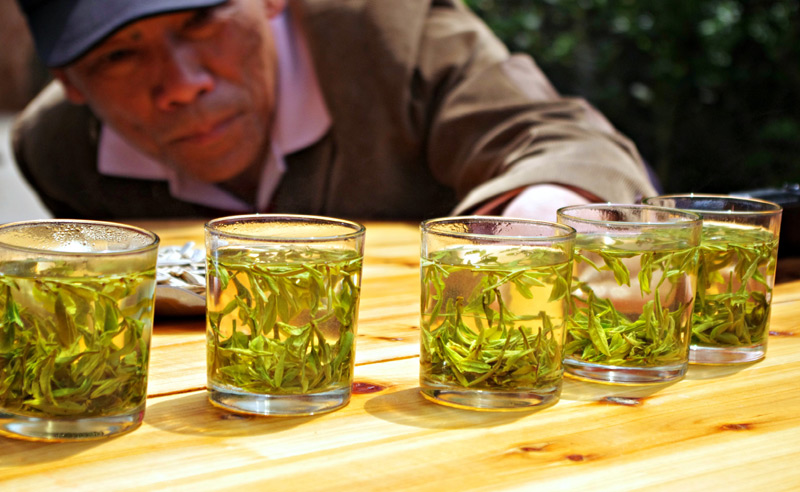 "The journey of a thousand miles begins with a single step (…or sip)" Lao Tzu.
The relationship of Tai Chi to Tea is, like anything to do with Chinese traditional culture a long and complex story. However we can take a first step in understanding this story with a very simple idea; Cǎi (採, cǎi) pronounced Tsai. One of the Eight Basic Methods of Chen Style Taijiquan[1], Cǎi means to pluck, taking its name from the short sharp twist used to pick the tips of the tea bush (採茶, cǎi chá). The move follows the flow of approaching force and without interruption diverts it into emptiness.
To give another example, Wave Hands Like Clouds (云手 Yún shǒu) is another very famous Tai Chi movement. To move hands like clouds is to move with a natural soft flowing movement but with intention. This doing without doing is one of the attitudes of thinking and doing that is inherent in Daoism. Tea drinking similarly embodies Daoist ideas in the way in which sharing tea is an opportunity to be mindful and truly present. They are interlinked through their spirit, they both seek to refresh one's mind and body. So it seems that mindfulness and stillness can be practiced equally through the ritual of making and imbibing tea, as it can through the practice of Tai Chi forms. So from the start we can see an example of how Tai Chi, Tea and the principles of Daoism are all intricately interwoven.
Practising Tai Chi form reveals for us many aspects of Daoist spiritual culture and drinking tea offers us yet another way to integrate this feeling of being-in-the-world into our daily lives and way of looking at the world around us. Being-in-the-world is to be in the middle of the world, amongst things, immersed in the now. Kakuzo Okakura writes in the classic Book of Tea[2] (1906), "Chinese historians have always spoken of Daoism as the 'art of being-in-the-world,' for it deals with the present–ourselves. It is in us that God meets with Nature, and yesterday parts from to-morrow."
Out of stillness we come into presence, being part of the world in harmony and balance with nature. A very Daoist concept, the 'tea-mind', that is to say, "a way of being-in-the-world, a way of living a life of grace and gratitude, of being able to see the sacred in the seemingly mundane". This is the heart of Daoism, and we are told, the way of tea (茶道chá dào). It is also the way of Tai Chi.
Drinking tea has been a Chinese custom for thousands of years, with the earliest records dating back to the 10th-century BC. Chinese philosopher Laozi described tea as the "froth of the liquid jade", and called it an indispensable ingredient in the elixir of life by which he means it is an important contribution to our longevity and health. In his book Cha Dao: The Way of Tea, Tea as a Way of Life, Solala Towler writes, "Daoists follow nature… and so Daoists like tea because it comes from nature. Tea is the flavour of the Dao".
Indeed the health benefits of Tai Chi and tea are complimentary as many scientific studies have shown. Dr. Greenwood[3], an expert on the relationship between diet, nutrition and brain health, tells us that "the compounds in tea appear to impact virtually every cell in the body in a positive health outcome, which is why the consensus emerging from this symposium is that drinking at least a cup of clear green, black, white or oolong tea a day can contribute significantly to the promotion of public health". So drinking tea has a whole body benefit just like Tai Chi.
Meanwhile, researchers at Texas Tech University Health Sciences Centre have established that a combination of Tai Chi exercise and green tea can contribute to improved bone health and muscle strength. So in combination Tai Chi and tea means healthy bones, improved balance, clarity of thought, and a boost to the immune system.
Aside from individual benefits Tai Chi is often performed with others and and brings with it benefits of social inclusion. Being part of group, meeting and practicing with others it's essence is social harmonising the individual in the social. Tea too, brings people together and reflects the individuals relationships within the world.
Tea and Tai Chi is being-in-the-world, being part of the world, being in harmony with the world, being in nature.

Author :

Roy Hanney
– is a university lecturer living and working in Hangzhou, Zhejiang Province, China. He practices taiji, qigong and yoga with a particular passion for Chen Style Taijiquan. In his spare time he makes films, authors websites and makes video art. He blogs about his encounters with Qigong and Daoist healing arts at his website:
http://www.qigonginchina.com
---