Our Traditional Tai Chi School in China
Our Tai chi  School
Our Tai chi school in China is set in a beautiful Qing dynasty house which has been lovingly renovated for training purposes to allow our students to connect to the traditional school atmosphere which has nurtured all the great tai chi masters.
The school consists of 3 buildings where you can find a smaller training areas, with a beautiful open courtyard out front and a traditional indoor training space and two bigger outdoors covered training space surrounded by Qing dynasty houses of the village. The school buildings also contain our private single/double/family rooms with shared bathroom or ensuite bathroom. A small courtyard area at the rear offers the shared facilities for the school, including bathrooms, shower areas, and shared laundry facilities. The buildings also have an outdoor/indoor tea/dvd room and an indoor kitchen and dining area and catering facilities where our chef cooks up an excellent selection of traditional and local Chinese dishes. We can also cater easily for vegetarians.
We have also just added a new mountain view training area, which is based behind the school on the side of a carste mountain commanding great views over the rest of the village and out on to the mountains beyond. It provides a great area to practice meditation and Qi-Gong or simply to relax, drink tea and look out over the stunning scenery of the valley.
We also have bikes available at the school to use for free and we can help you book tours, and give some great advice on many things to do in your spare time when you are not training, or when you wish to go out and explore the magical areas around Yangshuo.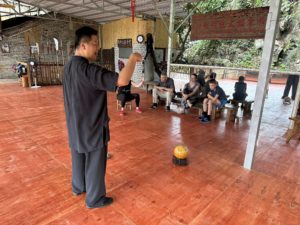 | Opening Hours | Mon – Fri | Saturday | Sunday |
| --- | --- | --- | --- |
| Morning Sessions | 09:30 – 11:30 | 09:30 – 11:30 | 09:30 – 11:30 |
| Afternoon Sessions | 15:00 – 17:00 | 15:00 – 17:00 | 15:00 – 17:00 |
| General Opening | 08:00 – 20:00 | 08:00 – 20:00 | 08:00 – 20:00 |
Yima
Our Traditional tai chi school in China is based in the small farming village of  Yima—a beautiful village 15 minutes' ride from the main town of Yangshuo.
Yima Village lies at the entrance to the Yu-long scenic area renowned for its famous carste mountain scenery. There is a beautiful route winding its way along the Yu-long river dotted with small farming villages, rice fields and  flowers. Yima village sits in a small valley surrounded on all sides by carste mountains, with rice fields dominating the base of the valley. It is connected to Yangshuo with a good quality road running between the town and Yu-Long scenic area.
The village is small and peaceful, and it offers small local shops and noodle stands as well as many beautiful old buildings to explore. There is also a small arts center and coffee shop nearby which offers local and foreign art exhibitions, Calligraphy and Art classes, Music lessons and events like traditional Chinese music performances are regularly hosted .