Tai Chi Masters and Instructors
Tai Chi Master Wu Heng Dong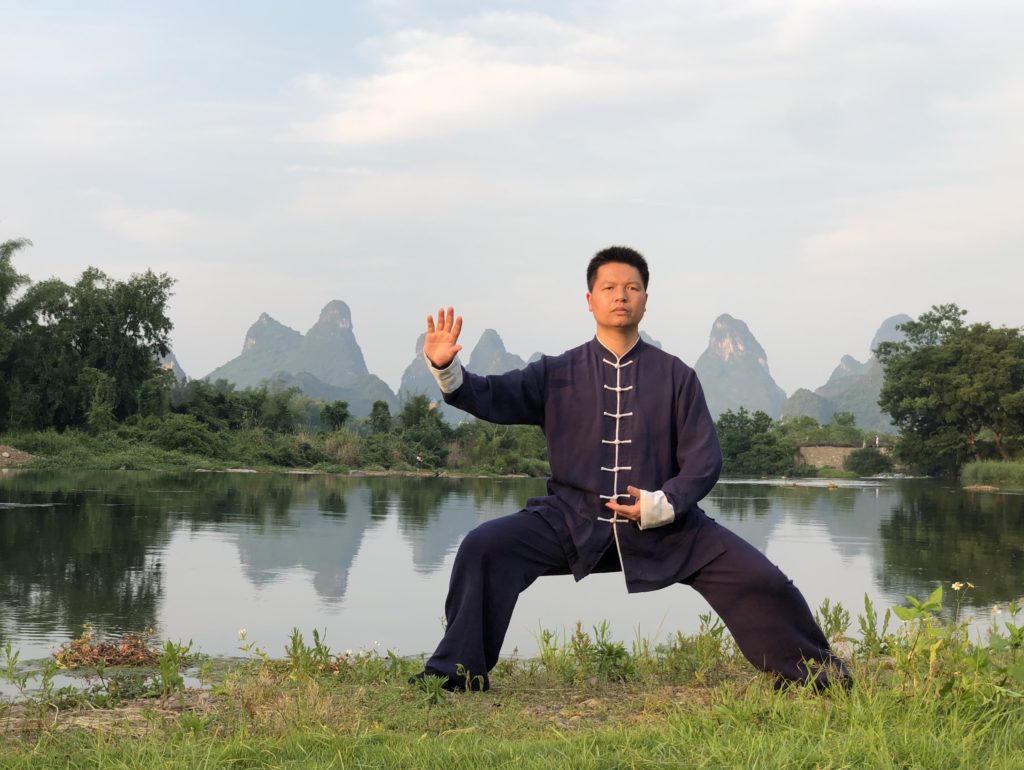 Wu Heng Dong (Master Kim) Yangshuo Traditional Tai Chi School founder and headmaster.
He was born in Fang Chen Gang, Guangxi province in 1979 and began a lifelong love and study of martial arts at the age of 11 initially under the tutelage of his father, also a keen martial artist.   After learning the basic skills of Wushu (Chinese martial arts) from his father, he went on to study Chen-style Tai Chi under Master Wang Hai Jun, obtaining a level 6 tai chi Master。
Master Kim with over 30years experience in both Tai Chi and Qi Gong,Xi Quan has been able to master Chen's Taiji quan series and Taiji theory knowledge,and can better master actual combat offensive and defensive skills.
He graduated from Guangxi National College of Health and Physical Education, receiving a Wushu and Tai Chi Coach Certification of China, Grade national level Degree.  He has participated in many domestic and international Taijiquan competitions from an early age, specializing in fist forms and sword forms, and has won numerous gold medals.
Wu Heng Dong was honoured to be made a 12th Generation Disciple of Chen Zhenglei, one of the four "Buddha's Warrior Attendants (Si Jingang)" – the four outstanding exponents of the Chen family in Chenjiagou – who in December 1995 was recognized as one of Top Ten Martial Arts Masters of Present Day living in China.  He was given the name Chen De Hao in recognition of this accomplishment.
Master Kim specializes in teaching: Chen Style Taijiquan; Taiji theory; Tai Chi Qigong(internal strength); pushing hands (grappling); weapons; self-defense; Kungfu; & Sanda (Chinese traditional boxing).  He has been teaching foreign students since 2000 and has taught people from numerous countries ranging in age from 4 to 88.  He hopes that his students will return home to spread the teaching of Tai Chi to their own countries.
The school once taught some students to take up teaching positions and participate in domestic and foreign Taijiquan and equipment competitions.
吴恒栋 艺名: 陈德昊, 1979年7月生,广西防城港市人,毕业于广西民族大学体育与健康学院。阳朔传统太极拳馆创办人兼总教练, 陈氏太极拳第十二代传人, 陈正雷大师关门弟子。中国武术六段,国家级社会体育指导员、一级拳师。
自幼爱好武术从11岁随父习武术基本功,曾随多名老师学习南拳系列、少林拳及武术器械。在外家拳基础上习练太极拳,先后受益陈氏太极拳教练王海军的传授。后拜在全国"十大名师"陈氏太极拳第十一代嫡宗传人—陈正雷大师门下,系统正规地学习陈氏太极拳的拳理拳法,拳架纯正,拳械纯熟。本人习拳30多年能够掌握陈氏太极拳系列及太极理论知识,能较好的掌握实战攻防技巧。
善长教习太极拳术、丹田内功、实战推手和器械,擒拿与反擒拿、女子防身术,武术套路、散打等。
本人多次参加国内外太极拳、器械比赛并荣获多枚金牌。
希望通过开办学校能够传播太极拳的博大精深,让更多的人了解和学习太极文化精髓。任教20多年间所授学生不同年龄、不同肤色、不同国家从4-88岁之间,接访教学国内外学员60多国人员,学员3多万人。长期教学和推扩积累丰富的经验,得到社会各界人士的认可和广大学生高度的评价。学校曾教部分学员走上教学岗位及参加国内外太极拳、器械比赛成绩突出。