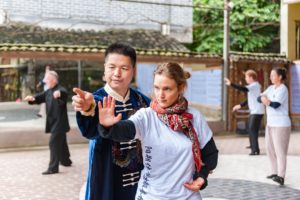 Tai chi tuition in china offers you the chance to train in a truly unique and  immersive environment. Compared to the west studying in china could be considered very cheap, especially for the level and quality of tai chi tuition you receive.
Below you will find prices of  full time Tai chi tuition (4hr/day) and part time tuition (2hr/day) accommodation fees and food options can be found on the Accomodation page. If you are interested in studying for a period of more than three months please contact us for prices for long term students. Tuition is also available by the hour. We also offer group rates, for these please get in contact.
We also offer Introductory Tai chi courses as well as General tuition courses which include accommodation and food.
Prices shown are only available through this website with direct bookings, If you book at your hotel or hostel you will be charged more!
General Tai Chi Tuition Fees
1 Week
4 Weeks
8 Weeks
12 Weeks
16 Weeks
24 Weeks
48 Weeks
2,800 CNY
8,200 CNY
15,200 CNY
22,500 CNY
29,600 CNY
43,200 CNY
79,200 CNY
1 Week
4 Weeks
8 Weeks
12 Weeks
16 Weeks
24 Weeks
48 Weeks
2,300 CNY
6,600 CNY
12,000 CNY
17,700 CNY
23,200 CNY
33,600 CNY
60,000 CNY
1 Hour
2 Hours (Half Day)
4 Hours (Full Day)
2 Hour Introduction (Lunch optional +50Y)
2 Days – 8 Hours training + 2 days Meals + 1 Day Accommodation
1 Week – 5 Days Training + 7 Days Food + Accommodation
It is possible to start  your training at any time, but please be aware we only have limited accommodation at the school so it's best to let us know in advance. For all bookings we ask a 20% tuition fee deposit to be paid in advance to secure your room and space at the school. The deposit is payable through a bank transfer up to 14 days before your booked date.
Here the bank account details for the transfer:
NAME:  Yangshuo Traditional Tai Chi School
CARD NUMBER/ Bank Account: 614575798971
SWIFT CODE:    BKCHCNBJ49C
NAME OF BANK:  BANK OF CHINA
ADDRESS:
No.61 JINGFENG ROAD
541900 YANGSHUO
GUILIN CITY
GUANGXI PROVINCE
CHINA
Please note for all tai chi tuition over a period of one month, if you wish to receive the discounted rates, Then payment for the full duration must be received at the beginning of your training. If not you will be charged on a single monthly basis and not be able to receive a discount.