Tai Chi Masters and Instructors
Tai Chi Masters Wu Heng Dong & Wu Yuping
WU HENG DONG…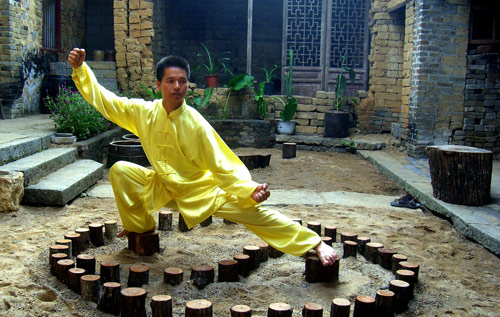 Tai Chi Masters Wu Heng Dong (Kim ) born in July 1979, a native of Fang Cheng Gang, in Guangxi province. He graduated from the Guangxi National College of Health and Physical Education.
He is a level 6 tai chi master( Duanwei) , he has obtained a Wushu and Tai Chi Coach Certification of China (Grade 1, First Degree). Kim is the Yangshuo Traditional Tai Chi School's co-founder and headmaster.
Childhood love martial arts from the 11 year old father learning basic skills of martial arts, under the tutelage of Wang Haijun learning Chen Style Taijiquan and Taiji theory knowledge.
He specializes in teaching: Chen Style Taijiquan;Taiji theory; Tai Chi internal strength;Pushing hands Grappling; Weapons;Self-defense; Wushu (Kungfu); Sanda (boxing).
Participated in the domestic and international Taijiquan, sword competition and won many gold medals.
Hope that by running a school to spread the extensive and profound, so that more people understand and learn the essence of Tai Chi culture. Teach taught 17 years students of different ages, different colors, different countries from between 4 – 88 years old, liberating the domestic and foreign teaching students 60 multinational staff, about 30000 students. Long term teaching and extensive experience, to be recognized by all sectors of the community and the majority of students of the evaluation.
Once people accept CCTV frequency Taiwan, the United States and the United Kingdom International Film Company, Slovakia TV, Hongkong TV, Guangxi TV, Guilin television, Yangshuo TV, the Guilin Journal interview and shooting.
WU YUPING…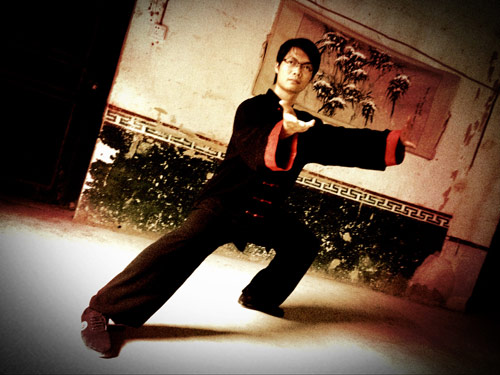 Wu YuPing started practicing Taichi at the age of 10. He studied the Chen-style from the 12th generation Tai chi masters Wang Fujing in Chenjiagou, Wen Town. (the town where the Chen-style originated). He has already received 18 gold medals in international, national and provincial competitions. The Guangdong Sports Committee and government gave Wu YuPing the title of being an outstanding coach, and they gave him a national coach license. He has already had a lot of students from all over China, some of whom received medals in competitions as well.
Wu YuPing decided to come to Yangshuo to improve his English and teach foreigners. His goal is to let more and more people know about Taichi and help them become as passionate as he is.